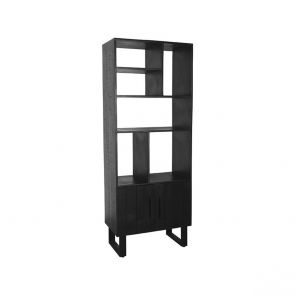 Bookcase Santos 74x40x190 cm
Extensive Product Description
Bookcase Santos 74x40x190 cm
Technical Details
Technical Details

| | |
| --- | --- |
| EAN | 8720195419518 |
| Article number | 18094430 |
| Width | 70 |
| Depth | 40 |
| Height | 190 |
| Brand | LABEL51 |
| Material | Mango wood |
| Colour | Black |
| Style | Modern |
| Number of legs | 4 |
| Maintenance tips | Dit meubel is afgewerkt met een meubelolie. De bescherming van de meubelolie is beperkt, het wordt geadviseerd om het meubel extra te behandelen met een hiervoor geschikte lak of olie en maak gebruik van onderzetters. Zo is jouw meubel goed beschermd. |
| Article number | AH-57.026 |
Delivery Information
Order and Delivery
Orders can be placed using the LABEL51 web shop system. To utilize this system, you first need to log in using the supplied login details.
If you do not (yet) have a login account for LABEL51, you can request your login details by sending an email to info@label51.com. It is also possible to place an order by contacting us personally. To place an order, send an email stating the desired order to sales@label51.com.
How do I place an order?
Select the articles you like and choose the amount you would like to receive. Go to your shopping basket and click: 'proceed to checkout'. You confirm your order by filling in your personal information and selecting the preferred payment option. Finally, you agree to the terms and conditions and place your order.
How long will delivery take? And how much do I pay for shipping and service?
The delivery time depends on the country you are situated in and on the quantity of the order. Smaller orders will be collected until the franco amount is reached, then all items will be shipped together free of charge. When an order is wished to be shipped earlier, the transport costs will be passed on. The delivery time from when the goods leave our warehouse is 2 to 5 working days,depending on the country of delivery.
Can I pick up my order?
No problem! You can always pick up your order from our logistics center in Tiel. This is free of charge. You will receive an email with your pick-up receipt which you can use to pick up the order. Our logistics center is opened Monday to Saturday from 10 a.m. to 5.30 p.m.
My order is incomplete. What can I do?
We understand that this is annoying! We will do our best to resolve this problem as quickly as possible. Send us an email stating your name, the missing article and your order number. We will check what went wrong and send you the missing item as soon as possible.
If you have any more questions regarding the order and delivery, please contact our customer service.
Best Selling